197 E. Mitchell Hammock Road • Oviedo, FL 32765 • (407) 365-3365
Oviedo's Award-Winning Seafood Shack!
TJ's Seafood Shack, in Oviedo,  specializes in serving up Florida-style seafood, burgers and a whole lot more in a relaxed, casual atmosphere! Whether you're in the mood for seafood or one of other delicious dishes, paddle on down to TJ's Seafood Shack with some friends or family and relax while you a local favorite!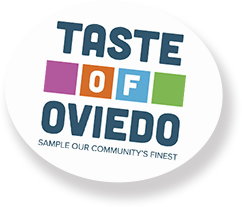 SUpERB food at TJ's SEAFOOD shack
In 2009, TJ's Seafood Shack won the Oviedo Chamber of Commerce Small Business of The Year Award and followed that with multiple consecutive years winning the restaurant category of "Taste of Oviedo"!
We can't wait for you to try our award-winning fish tacos!
TJ's Seafood Shack Weekly Specials
Kids Eat Free
(one per family/table)
2 Award-winning tilapia fish tacos, beans & rice, plantain & drink – $7.99
All-You-Can-Eat Fish Dinner!
White, flaky fish, one standard side, hush puppies and cole slaw – $13.99
(take out – 2 pieces per order)
$3 draft beer all day – from our wide selection!
Shrimp and grits with andouille sausage gravy & our customer favorite Chef's Specials!
3-6pm – Enjoy $3
Draft Beer & Wine
Read What Our Customers Have to Say!
"The BEST seafood! Everything is always so good. From the lobster roll, catfish, gator bites, fried pickles, sugar shack salmon and so much more. I always feel welcome and I love the laid back atmosphere. TJ's is a family favorite!"
Stephanie T.
"5 stars for a great local spot with amazing service! I went on a Wednesday and there was a line to the door the minute they opened! They have great deals every day of the week and amazing food!"
Monica A.
"Delicious seafood in a casual atmosphere can be found at TJ's Seafood Shack. I've been to the Oviedo and East Orlando locations a handful of times and had good experiences at both."
Stacy V.
"Thoroughly enjoyed my lunch at TJ's last Tuesday. The menu is HUGE and (being a very hungry first timer) it was tough for this seafood junkie to decide. Shout out to Kaylyn for being so nice and helping me choose. The generous cut of blackened Mahi on my sandwich was perfectly prepared and very tasty."
Ivy G.
"Absolutely amazing food and staff!!! Very reasonably priced, food was hot, and very, very good. I got the gumbo and my mother got a lobster melt that wasn't on the menu and suggested. They're generous with the portions, and we both left feeling very full. We'll definitely be back!!"
Mandi W.
Signup for news, updates & offers!