197 E. Mitchell Hammock Road • Oviedo, FL 32765 • (407) 365-3365
Oviedo's Award-Winning T.J.'s Seafood Shack
When you enter TJ's Seafood Shack you walk into a casual, inviting, and fun environment. There is also a good chance you will run into the Owners – Mary and Tim. Since they opened their doors in 2008 they have been delighting customers with high quality seafood in a laid back way. Tim, a seasoned restaurateur, partnered his business minded sister Mary to bring the coastal seafood shack to Central Florida. The menu is a reflection of their travels around the country and their intent to have fun while serving their customers great seafood at family friendly prices.
Even though TJ's Seafood Shack is a casual seafood restaurant in the Orlando suburb of Oviedo, it is evident that the owners are serious about their business. In 2009, they won the Chamber of Commerce Small Business of The Year and followed that with 11 consecutive years winning the restaurant category of "Taste of Oviedo"!
The seafood platters and fish tacos are not the only standouts at TJ's, they do great burgers, chicken sandwiches, and salads as well. So, whether you are in the mood for seafood or not, paddle on down to TJ's Seafood Shack with some friends or family and relax while you enjoy a great meal!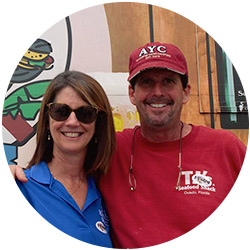 Read What Our Customers Have to Say!
"The BEST seafood! Everything is always so good. From the lobster roll, catfish, gator bites, fried pickles, sugar shack salmon and so much more. I always feel welcome and I love the laid back atmosphere. TJ's is a family favorite!"
Stephanie T.
"5 stars for a great local spot with amazing service! I went on a Wednesday and there was a line to the door the minute they opened! They have great deals every day of the week and amazing food!"
Monica A.
"Delicious seafood in a casual atmosphere can be found at TJ's Seafood Shack. I've been to the Oviedo and East Orlando locations a handful of times and had good experiences at both."
Stacy V.
"Thoroughly enjoyed my lunch at TJ's last Tuesday. The menu is HUGE and (being a very hungry first timer) it was tough for this seafood junkie to decide. Shout out to Kaylyn for being so nice and helping me choose. The generous cut of blackened Mahi on my sandwich was perfectly prepared and very tasty."
Ivy G.
"Absolutely amazing food and staff!!! Very reasonably priced, food was hot, and very, very good. I got the gumbo and my mother got a lobster melt that wasn't on the menu and suggested. They're generous with the portions, and we both left feeling very full. We'll definitely be back!!"
Mandi W.